Al Naqaha Trading &
Contracting Establishment



---
CEO MESSAGE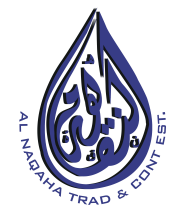 Al Naqaha Trading & Contracting was established in 1999 as a
Mechanical/HVAC contracting & trading company in Saudi Arabia
under the leadership of founder.
Since then Al Naqaha experienced various phases of expansion, diversification and restructuring and developed into a multi-national, diversified and successful business enterprise.
It has diversified in the field of HVAC, Plumbing, Fire Fighting and Security, Electrical and Building Automation.
For Al Naqaha to have longevity, a commitment to excellence and quality by every member of the organization must be present. It has established this pattern not only from habit, but from a desire to build our business on the satisfaction of our customers.
It has adopted a divisionalized organization structure, with each division specializing into own business segments for better customer focus and providing best possible service to achieve customer satisfaction.
Al Naqaha has developed into a leading organization in the complete value-chain of Project Engineering, Project Contracting, Planning and Control, Installation Services, Operation and Maintenance and Trading in the field of Electro-Mechanical Products, System and Services.



---